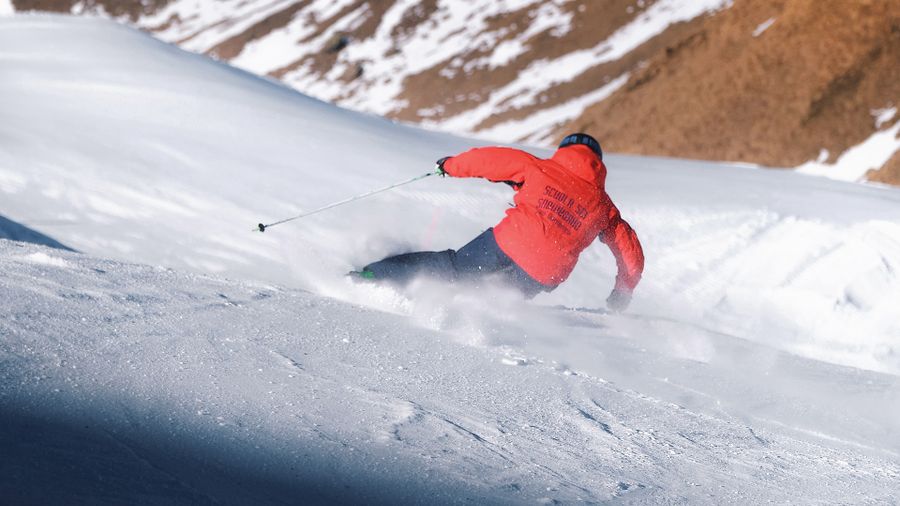 Ski courses
Courses and lessons for all levels
San Domenico Ski School is composed of teachers with thirty-year experience, trainers and ex athletes with freeride and freestyle knowledge. They will guide you through your progression on and off slopes: from the snowplough to the extreme carving; but also to your first structure in the snow park or no less than to float on powder snow. Take a look at our courses, then pick the one that suits you best. Otherwise, contact us and together we will find a customised solution based on your needs.
LESSONS TIMETABLE
First lesson starts: 9.30am
Deadline for the last lesson: 4.30pm
For organizational purposes, the lesson must be paid in advance, at least 15 minutes before the start. Failure to pay in advance or notice of delay will result in cancellation of the booking
A lesson lasts 55 minutes
Frequently asked questions
How do I book a lesson?

Choose a date and then contact us: you can call, write an email or compile the reservation form on our website.

What is the lesson timetable?

We are up and running from 9:30 to 16:30 Choose the time schedule in which you would like to take the lesson and send us your request. In case the time schedule won't be available, we will suggest one as close as possible to what you have asked for.

Where can I rent the equipment?

If you are a beginner, you can rent straight on slopes, beside the ski school, at the rental "Sci Munito".
In this way, you can easily take the chairlift without the hassle of carrying the equipment up and down from 2000 meters. Otherwise, if you have an average or advanced level and you can face the slope down to the village, you can rent at the new rental "Sando Sport", located at the entrance of San Domenico.
In both the rental shops you will have a 20% discount, if you take a lesson with us.

Is the ski pass included in the lesson?

No, you have to buy the ski pass separately. The price varies depending on age, level and number of days; there are also family reductions.

When and where do I have to show up for the lesson?

The hangout is at the ski school office, which is located in front of the "2000 Lodge", at the arrival of the second chairlift, starting from the village. You have to arrive at least a quarter of an hour before the time agreed. Once there, before starting, you have to pay for your lesson at the secretariat.

How can I pay?

As regards one day lesson you can pay directly on site: we accept card payment, cash and Paypal.
As for lesson packages or multi day lessons, a 50% deposit is required through bank transfer or Paypal.
The balance will be paid the first day of lesson always with card payment, cash or Paypal.

How far in advance do I have to reserve?

Whenever you want! Of course, if you are sure to come, the earlier you will reserve the better it will be in terms of choices; In fact, in long distance reservation you will have a better chance to choose the timetable and teacher that you want.
If not sure about the day or the time of arrival, it is recommended to not reserve in order to avoid management problems.

Can I take a lesson without reservation?

Yes, you can, to the extent of daily availability. However, in busy periods, for example Christmas holidays, it is risky to come without booking because there might not be any hour or teacher left.
For this reason, it is recommended to reserve in advance if sure to come

What happens if I am late?

You can call us and ask to wait for you in case you want to take the lesson anyway. Of course, the lesson won't be 55 minutes, but it will last depending on your delay. Otherwise, we can check while we are on the phone, if it is possible to postpone the lesson for another timetable.
Minutes lost are not recoverable; in fact, there is no down time between lessons.
If the clients do not show up or call within five minutes before the beginning of the lesson, the latter will be lost and given to the first person in the waiting list.
As for lesson packages or courses, lessons not taken are not recoverable.

How long does a one hour lesson last?

One hour of lesson lasts 55 minutes. For example, if the reservation is for 2 hours, the lesson actually lasts 110 minutes.